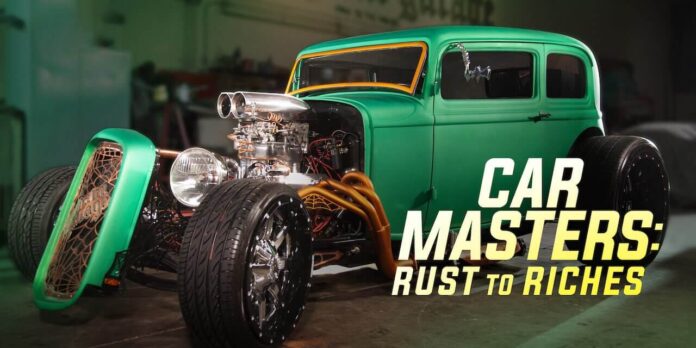 Netflix released an American reality TV show namely Car Masters: Rust to Riches. Many viewers are curious to know some crucial details about this show. Everybody is excited to know about the Gotham Garage team. However, the major question that is raised by a plethora of viewers is 'whether this show and the automotive experts at Gotham Garage are fake or real.' So, let's explore this answer today.
Is Gotham Garage Real or Fake?
No, it is a reality show and the Gotham Garage actually exists where Mark Towle with his team members including Tony Quinones and Michael Pyle actually renovate care as per their own innovation, creation and most importantly, clients' imagination. So, it is entirely a real show and the Gotham garage actually exists and is not only designed for TV purposes.
Does the team really work at Gotham Garage?
Yes, the cast actually works at Gotham Garage and doesn't just do acting. However, there are some facts that put this show under suspicion and convince viewers to think that the show is actually scripted. Here are some facts that have found recently about the reality show Car Masters: Rust to Riches:
Shawn Pilot, the ambassador for the team at Gotham Garage has good acting skills. He has mentioned his acting skills in his resume. It made viewers think that he is just acting like he knows everything about automobiles.
In the show, the crew at Gotham Garage renovated a 73 pinto. This task is actually time-consuming and a strenuous challenge for a number of machine experts. However, the team at Gotham Garage did it amazingly and easily in less time. This made people believe that the show is fake and not at all real.
Moreover, some conversations held on the floor of the Garage also make viewers doubtful about whether the show is real or fake. Is their knowledge about automobiles and skills easy to believe? Not at all. That's why people are considering it a fake and scripted tv show.
What REALLY Happened Behind The Scenes Of Car Masters: Rust To Riches?
Introduction to Car Master Netflix Show
The reality TV show 'Car Masters: Rust to Riches' was released on Netflix in 2018. In this show, Mark Towle and his team of automobile experts modify old vehicles and sell them at hefty profits. They usually restore cars that are bent or rusty. The show is highly successful and is viewed and liked by a great number of people all around the world. However, some people doubt the talent of Mark Towle and his crew at Gotham garage because the modification and restoration process done by the team is incredible and quite impressive.
Car Masters: Rust to Riches Cast Net Worth
Mark Towle, the owner of the Gotham Garage is in the limelight of the show Car Masters: Rust to Riches. He has a vast knowledge of machines and automobiles and has amazing skills in modifying ominous-looking cars into a whole different and alluring look. The net worth of the proprietor of the Gotha garage is around $1 Million.
The net worth of Constance Nunes, a proficient mechanic in the TV reality show Car Masters $2 million. She is a model as well and is highly notable on Instagram. She not only earns from this show but also earns well from social media platforms.
Read Also: 10 Ways to Maintain a Healthy Lifestyle
Shawn Pilot is one more popular team member who works at Gotham Garage. Apart from being a machine expert, he is a skillful poker player. He has a net worth of $70,000 as of 2021.
The other members of the Gotham Garage also earn well but their net worth is less than that of Mark and Constance.
Is Car Masters: Rust to Riches Fake?
After looking at the various aspects and doing thorough research, it can be concluded that Gotham Garage is real and the cast is also skilled having great knowledge of the automobiles and machinery parts. However, some things could be scripted and done for TV purposes. So, some parts of the show are real and some are planned. The scripted dialogues and parts add drama and emotions to the show to make it look engrossing.
Final Words
So, Car Masters: Rust and Riches, Gotham Garage and the crew isn't entirely fake, some parts are real. So, you can enjoy watching this world's famous reality show on Netflix without any skepticism.